Welcome to Lakshya-Bharat Portal - Opportunities in Oil and Gas Sector - A Step Towards Self Reliance
Government is the largest purchaser in every economy of the world. In India too, public procurement as a percentage of GDP in India is estimated between 20-22%. For the size of the Indian economy of USD 3.1 Trillion, this amounts to public procurement to the tune of USD 600 Billion annually. The Government of India is aiming towards a USD 5 Trillion Economy by 2025-26. In FY-2021-22, the combined procurement of oil companies was to the tune of around USD 35 Billion which comprises Capital Goods and MRO Items.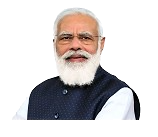 Shri Narendra Modi
Hon'ble Prime Minister
Today, the world is looking to India as a global manufacturing powerhouse. The Make in India campaign is the need of the 21st century, and it gives us an opportunity to showcase our potential.
We should work with full force to build a robust manufacturing base.
Excerpts from the address at DPIIT's webinar "Make in India for the World".

Shri Hardeep S Puri
Hon'ble Minister of Petroleum and Natural Gas & Housing and Urban Affairs
India is on the path to becoming a 10 trillion-dollar economy in 2030 and the third-largest economy in the world by 2047. India is wedded to the concept of net zero and is committed to making a transition from a world of hydrocarbons to a world of green and sustainable energy.

Shri Rameshwar Teli
Hon'ble State Minister of Petroleum and Natural Gas & Labour and Employment
Welcome to "Lakshya Bharat" Portal.
What's New
test

10/07/2023

Held under the patronage of Ministry of Petroleum & Natural Gas, supported by the Federation of ... View More

03/02/2023
03/02/2023

On the way towards Net Zero target, EIL organized a vendor meet on 19.01.2023 with Compressor Industry to know their endeavors in energy efficiency ... View More

03/02/2023

Engineers India Limited along with other Oil & Gas PSUs, also partners with GeM for its procurement requirements. To address issues, specifical ... View More

03/02/2023

EIL has organized a virtual meet with Piling Contractors on 15th December'2022. The event got enthusiastic participation from the ... View More

03/02/2023

Under the ambit of Vigilance Awareness Week-2022 theme "Corruption Free India for a developed nation", EIL organized a ... View More

22/11/2022

EIL organized a vendor meet on 22.09.2022 with Pump Industry to know their endeavors in energy efficiency and reduction in carbon footprints. The e ... View More

22/11/2022

A vendor meet was organized on 03.08.2022 with prospective agencies providing services in the specialized sector of Precast Building Solutions ... View More

04/08/2022

In line with mission of Govt. of India to maximize participation of domestic suppliers in projects, EIL organized a Vendor Meet on 21st June, 2022 ... View More

06/07/2022

In order to enhance efficiency of business processes, EIL organized a Vendor Meet on 19th May, 2022 with specific focus on understanding the challe ... View More

06/07/2022

Continuing the initiative towards "Atmanirbhar Bharat" Abhiyan of Govt. of India,
Engineers India Ltd. organized a vendor meet on ... View More

06/07/2022

In continuum of EIL's initiative towards "Atmanirbhar Bharat" Abhiyan of Govt. of India, an online vendor meet through Webex plat ... View More

12/05/2022

In continuum to earlier vendor meets organized by EIL under the Govt. of India vision of "AatmaNirbhar Bharat", an online vendor meet t ... View More

03/01/2022

In continuation to earlier vendor meets organized by EIL under the Govt of India vision of "AatmaNirbhar Bharat", an online vendor meet ... View More

03/01/2022

Under the ambit of Vigilance Awareness Week-2021 theme "Independent India @ 75: Self Reliance with Integrity", EIL org ... View More

02/11/2021

In continuum to various vendor meets organized by EIL under the Govt of India vision of "AatmaNirbhar Bharat", an online vendor meet th ... View More

05/10/2021

A vendor web-meet for Compressors was organized by Engineers India Limited on 12th Aug, 2021 to present project specific requirements fo ... View More

03/09/2021

Smt. Vartika Shukla has assumed the Charge of Chairperson & Managing Director, EIL on September 1, 2021.

03/09/2021

Engineers India Limited organized a web-meet for Pump suppliers on 11th Aug, 2021. Agenda for the meet was to showcase project specific ... View More

16/08/2021

Engineers India Limited organized a web-meet on 31st May 2021 for Compressor manufacturers with a focus on the indigenization of Compres ... View More

02/06/2021

On 16th April 2021, Engineers India Limited organized a Manufacturers' Meet-cum-Webinar with Gratings suppliers. The webinar ... View More

19/05/2021

Engineers India Ltd. under the chairmanship of Director Technical, Ms. Vartika Shukla, has organized a Vendor meet with various 3rd Part ... View More

11/05/2021

FCC-GDS units in BS-VI Auto Fuel Project of CPCL Refinery were dedicated to the Nation by Hon'ble Prime Minister of India in an elegant functi ... View More

11/05/2021